Unlikely Interlocutors: An Interdisciplinary Seminar Series
An irregular four-part interdisciplinary seminar series to bring creative practice researchers, cultural workers, technologists, media & communications specialists, and theoretical particle physicists into dialogue. Each session is convened and curated thematically by Rebecca Collins to investigate and open debate on overlaps, inconsistencies, and uncertainties encountered within sonically-inflected searches for dark matter, the intersection of the quantum world with everyday realities, artistic processes & practises, and interdisciplinary laboratory conditions. 
Where might lending an ear to the Universe and its technical nuances lead us? Can we attune ourselves to quantum mechanics if we listen long and hard enough? If something is out of ear shot that does not mean that it does not exist – what are the limits of the world we can access with our senses and what are the emergent technologies that enable us to investigate the unknown? 
Each of the four events were held in person between March 2022 and March 2023. The sessions were well attended by an audience of over sixty people. This was an interdisciplinary public consisting of musicologists, physicists, mathematicians, engineers, Fluxus scholars, videographers, audio documentary makers, radio presenters, media & communication specialists, art historians, philosophers, human geographers, curators, cultural workers, CEOs, and sociologists.
Video documentation of each seminar is subsequently uploaded to the IFTs YouTube channel which typically hosts content related to scientific outreach and communication. The video from the first session has attracted over 91,000 views with over 1,000 likes, the second over 44,000 views with 530 likes. The third video and fourth videos will be uploaded in early June 2023.
Part One: Uncertainty & Indeterminacy 
The first session considered the role of uncertainty and indeterminacy within theoretical particle physics and the work of experimental music composers. If matter, albeit through the use of technology, is audible and silence (after experimental composer John Cage) is sound what might be going on at the microscopic or subatomic level of the Universe? Are there clues to be uncovered in theories of the quantum world? What might the uncertainty principle offer arts and humanities? What can the debunking of fixed points and events do for the imagination? What role does intuition play in scientific processes? Can an understanding of the quantum world teach us something of the instability of how we perceive, classify and interpret our present reality? 
The session took place on Friday March 11 2022. Video documentation (in Spanish) is available on YouTube. A transcript in English is currently being prepared.
Arts & Humanities Scholar: Carmen Pardo Salgado works in the interface between philosophy and sound art. She is a tenured lecturer at the University of Girona and Professor of the Sound Art Master's degree at the University of Barcelona.
Physicist: Esperanza López-Manzanares holds a PhD in Physics from the Autonomous University of Madrid (UAM). She is currently a Scientific Researcher at the CSIC, at the Institute of Theoretical Physics where she is a specialist in the holographic principle of superstring theories within the theories of quantum gravity.
Part Two: Membranes, Microphones, Hydrophones & Particles 
The second session considered the use of acoustic technology within theoretical particle physics and creative/cultural uses of radio. European interdisciplinary experiments currently make use of technology in the deep sea to detect microscopic particles. Where we might once have (perhaps naively) thought of the depth of the ocean as a homogeneous, unified space, data from such experiments teaches us otherwise. Ongoing remote access to underwater areas provides useful (and crucial) insights into a plethora of sonic phenomena. Alongside insights into the behaviours of high-energy particles such experiments also provide accounts of underwater noise profiles and the acoustic activities of cetaceans. What are the adequate conditions within which to detect the microscopic and invisible elements of our universe? What might the ability to navigate the intensities and densities of the subaquatic, otherwise inaccessible in our everyday lives, offer to aesthetic thought/to the imagination? How might these forms of scientific experimentation inform current thinking within the arts and humanities?
The session took place on Friday 27 May 2022. Video documentation (in Spanish is available. The transcript in English is currently being prepared.
Arts & Humanities Scholar: Miguel Álvarez-Fernández is a sound artist, musicologist, writer, radio producer and film maker. Since 2008 he is the presenter of 'Ars Sonora' a weekly programme that airs on Classical Spanish National Radio.
Physicist: Miquel Ardid is a researcher at the Gandía Campus of the Polytechnical University in Valencia where he leads the detection of acoustic astro particle physics group.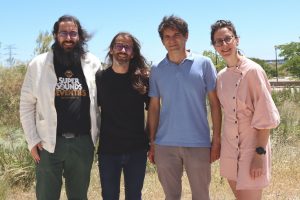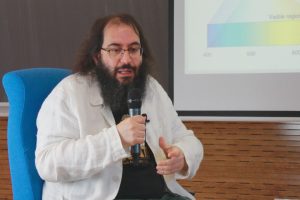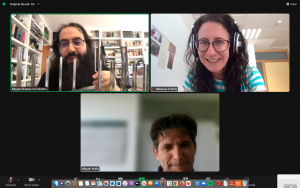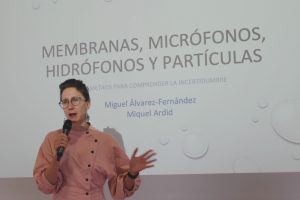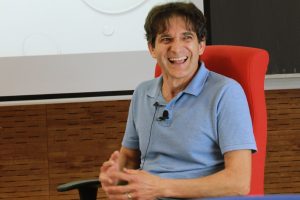 Part Three: Methodologies for Discovering the Unknown 
The third session in the series focused on the role of process within artistic research and scientific experimentation. The pursuit of the unknown, both within the context of particle physics and artistic research, requires infrastructure, imagination, and experimentation. The verification and reproducibility of results is a crucial aspect of scientific experimentation, yet such methodologies often bring slower returns and less reward than other searches dedicated to uncovering the unknown. Equally, artistic residencies and their set up within the context of interdisciplinary institutions involve risk, determination and uncertainty. Such qualities are often overlooked in favour of outcomes, data, products, or timed goals. Whilst, in time these might be achieved, can we reconsider the value of methodologies dedicated to uncovering the unknown? 
Areas under discussion included: To what extent is artistic practice a way of knowing? What kind of intervention do artistic residencies offer when situated within institutions? Can such structures be reproduced? What is the role of art and culture in relation to science and technology? In the context of scientific experimentation to what extent should results be reproducible? What role might failure play in relation to figuring out the unknown? 
Video documentation with Spanish subtitles is currently being prepared.
Arts & Humanities: Ariane Koek is an independent producer, curator, and writer recognised internationally for her transdisciplinary work in the arts, science, and technology, and in the creation of new residency programmes.
Physicist: Marisa Sarsa Sarsa is Professor of atomic, molecular, and nuclear physics at the Department of Theoretical Physics at the University of Zaragoza. She is the Principal Investigator of the ANAIS experiment at the Canfranc Underground Laboratory.
Part Four: Traces of the Not-Yet-Known 
The fourth (and final) session in the series considered what occurs at the limits of knowledge when the unknown traces of something emerge indicating the presence of that which is more than nothing.
Commonplace within art/science collaborations is the use of representation to communicate scientific findings. Such endeavours offer limited returns to artistic research and tend to occur at the tail end of a scientific enquiry. What happens in the predetermined stages of a research investigation, at the point prior to identification or classification, when what is to-be-known is still emerging? If findings cannot be aligned with current systems and structures, what tools do we have for jumping into the unknown?
This session operated as a springboard for a dynamic conversation exploring the fundamental characteristics of experimental research.  Each speaker offered access points, insights, and observations into areas of thought that uphold the complexities at stake when considering the nuances of research processes at the nexus of art and science.
Video documentation in English with Spanish subtitles is currently being prepared.
Following discussions held during the preparation of the session and during the session itself Michael Schwab published this text 'Contemporary Research' in HUB – Journal of Art, Design and Society.
Arts & Humanities Scholar: Michael Schwab is an artist, and artist researcher who interrogates post-conceptual uses of technology in a variety of media including photography, drawing, printmaking and installation art. He holds a PhD in photography from the Royal College of Art. He is co-initiator and inaugural Editor-in-Chief of JAR, the Journal for Artistic Research.
Physicist: Alberto Casas holds a PhD in Theoretical Physics and is Professor of Theoretical Physics at the Institute of Theoretical Physics (CSIC-UAM) in Madrid. His research areas are elementary particle physics and cosmology.