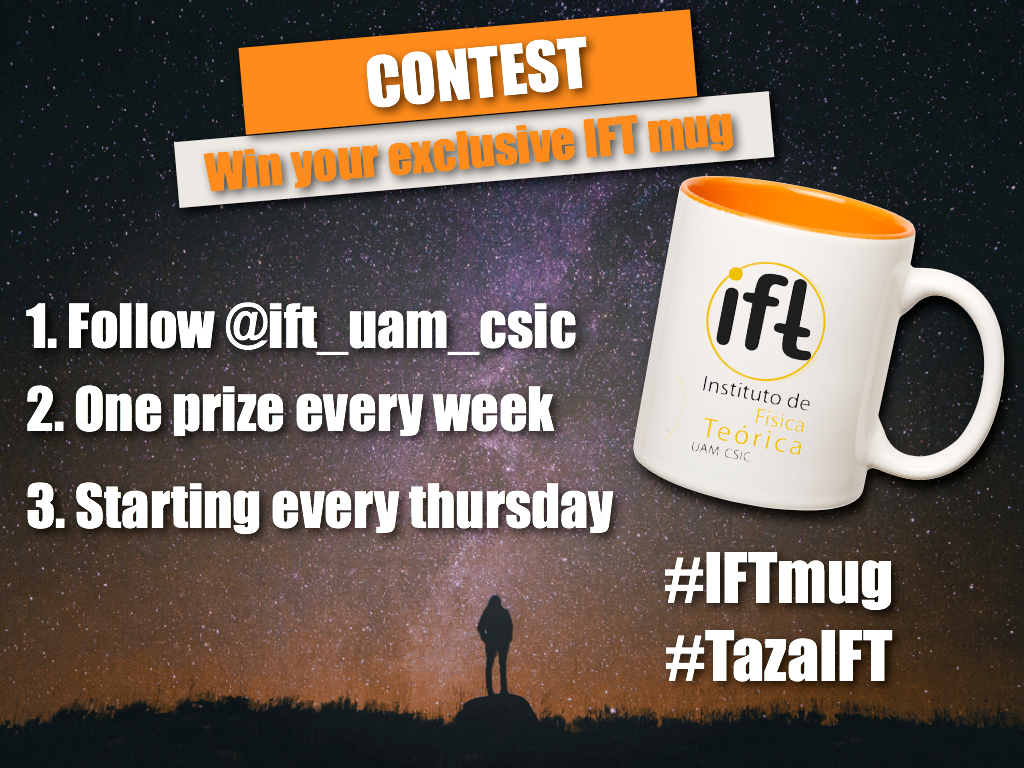 Rules:
1. Every week, there will be one prize: an IFT mug for the winner/s
2. To participate, we will propose every thursday a challenge or a question
3. Every thursday, the winner of the last week will be announced
4. You can participate either in English or in Spanish
5. The contest will last until the end of June, with a trial period of 1 month
Calendar 2018:
Week: 4th to 11th January:

 
Challenge: Scientific wish for 2018
Winner: @DivulgaMadrid
 

Week: 11th to 18th January:
Challenge: Questions for the special IFT Responde of 11th February
Winner: @BonillaGJesus 
Week: 18th to 25th January:
Challenge: What is your favourite formula? 
Winner: @Jaime_redon
Week: 25th January to 1st February:
Challenge: Physics in my daily life
Winner: @astronomyii
Week: 1st to 8th February:
Challenge: Superblue blood moon
Winner: @CrisPignoise   
Week: 8th to 15th February:
Challenge: Your favourite physics outreach female

Winner: @Bere_barionica and last minute surprise!!
Week: 15th to 22nd February:
Challenge: Favourite current female physicist
Winners: @pagarab and Teresa Rodrigo from @unican @DifusionIFCA
Week: 22nd February to 1st March:
Challenge: Physics and sports
Winner: @Dm_Mariia
Challenge: Science fiction film 
Winner: @Placeresvirtual
Challenge: Científica favorita de cualquier época en el área de física
Winner: @RadiactivoMan 
Week: 15th to 22nd March:
Challenge: Frase más inspiradora de Stephen Hawking
Winner: @pedrorealr
Week: 22nd to 29th March:
Challenge: Propiedad física, curiosidad o experimento con o sobre el AGUA más interesante
Winner: @Mora___ 

Week: 29th March to 5th April:
Challenge: Proponer título a la imagen
Winner:@MientrasenFisic
Challenge: 50 Aniversario de 2001: Odisea en el espacio
Winner: @rafasith 
Week: 12th to 19th April:
Challenge: Misión espacial (tripulada o no) favorita
Winner: @carlotaconuez
Week: 19th to 26th April:
Challenge: Libro de divulgación favorito
Winner: @VicenteChomali
 

Week: 26th April to 3rd May:
Challenge: Retuitea proponiendo un título a la imagen
Winner: @Willy04290
Challenge: Star Wars Day
Winner: @RTAndres
Challenge: Vídeo favorito de Crespo
Winner: @juanjgou
Challenge: Día de Internet 
Winner: @kBoltzmannlogW
Challenge: Partícula favorita (descubierta o hipotética) 
Winner: @poyeyali 
Week: 31st May to 7th June:
Challenge: Objeto astrofísico preferido
Winner: @Julyto5        
Challenge: Nuevo Ministerio de Ciencia
Winner: @CaRoLCrEsPo_FyQ
Challenge: 10.000 seguidores en Twitter
Winner: @Diegomo35741087
Challenge: Meme taza IFT 
Winner: @Science_Magu
----- We stop the contest for the moment, it will be launched again in autumn!!
---
Calendario 2019:
Week: 10th to 17th January:
Challenge: Mensaje favorito de la temporada pasada
Week: 17th to 24th January:
Challenge: Preguntas sobre física para el especial IFT Responde 11 de Febrero 
Winner: @pdiracc  
Week: 24th to 31st January:
Challenge: Vídeo favorito de la Jornada Youtuber de Ciencia Clip
Winner: @nuriaricher
Week: 31st January to 7th February:
Challenge: Científica pasada o presente para premio Nobel
Winner: @FyQBellido
Week: 7th to 14th February:
Challenge: Descubrimiento de la siguiente científica que reciba el premio Nobel 
Winner: @brodriguezsci   
Week: 14th to 21st February:
Challenge: Día Mundial de la Radio  
Winner: @Isa_R_C  
Week: 21st to 28th February:
Challenge: Meme científico favorito  
Week: 28th February to 7th March:
Challenge: Tema científico para los vídeos del concurso Ciencia Clip Latinoamérica   
Winner: @TuFotonSalvaje 
Challenge: Experimento casero de física para un futuro vídeo de YouTube 
Winner: @FranzRuzR
Week: 14th to 21st March:
Challenge: Libro favorito de divulgación de Stephen Hawking
Winner: @GuijonGustavo
Week: 21st to 28th March:
Challenge: Tuit-poema científico 
Winner: @erlangcola 
Week: 28th March to 4th April:
Challenge: Canal de divulgación favorito de YouTube 
Winner: @rogerpuig_ 
Challenge: Libro científico para las vacaciones
Winner: @Pandutrek
Week: 11th to 25th April:
Challenge: Poner título a la imagen
Winner: @lylaswam
Week: 25th April to 2nd May:
Challenge: Medida de apoyo a la ciencia
Winner: @LEscaned
Challenge: Memes con el edificio del IFT

Winner: @Xx_S4NN4S_xX
Challenge: Nombres de físic@s europeos célebres
Winner: @teey_ten
Challenge: Problema abierto de la Física preferido 
Winner: @jramort 
Challenge: Frase más inspiradora de Eduard Punset 
Winner: @marialehc_2010
Week: 30th May to 6th June:
Challenge: Poner título a la imagen
Winner: @uotloy
Challenge: Formato de divulgación favorito

Winner: @stakcoverflow
Challenge: Imagen del LHC 
Winner: @Dybel  
Challenge: Meme taza IFT
Winner: @DotCSV
Follow us on Twitter: